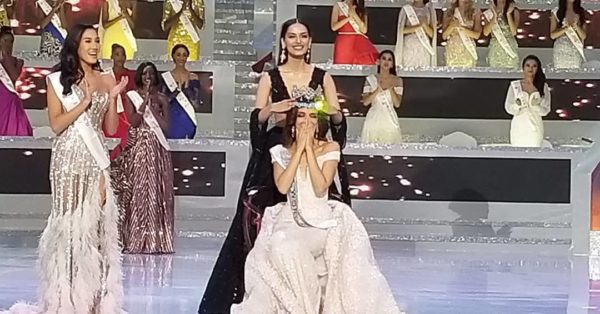 A new Miss World 2018 has been crowned, and this year it's Miss Mexico Venessa De Leon.
Dressed in a beautiful off-shoulder ivory gown, Miss Mexico was adorned in a beautiful smile and crowned by the Miss World 2017, Manushi Chhillar.
The revised format of the Miss World pageant this year had the organizers select a top 5 with a contestant representing each region of the world.
Sadly, Miss Nigeria, who made it to the top 30, did not make it past that, with Miss Uganda winning the Miss World Africa 2018 crown.
Miss World | 2018 2018 Miss World Continental | WINNERS. . Belarus | Europe Mexico | Americas Uganda | Africa Jamaica | Caribbean Thailand | Asia and Oceania . . CONGRATULATIONS ! #missworld #mw2018 #mwo #mw2018sanya #mw2018china #missmundo

A post shared by Miss World (@missworld) on Dec 8, 2018 at 5:14am PST
Others in the top 5 were Miss Belarus as Miss World Europe 2018, Miss Jamaica as Miss World Carribean 2018, Miss Thailand as Miss World Asia and Oceania 2018, and Miss Mexico as Miss World America 2018.
After a tough question and answer round, Miss Thailand was announced as the runner-up and Miss Mexico as Miss World 2018.
Miss World | 2018 THE WORLDS FIRST INTERVIEW with our Social Media Correspondent @jaykamiraz . . WE HAVE A NEW MISS WORLD !! THE 68TH MISS WORLD TITLE GOES TO: . . Vanessa Ponce de Leon from Mexico . . #missworld #mw2018 #mwo #mw2018sanya #mw2018china #missmundo .

A post shared by Miss World (@missworld) on Dec 8, 201